To realize zero-emission society ,
we develop cutting-edge technology with high environmental performance and contribute to low-carbon society.
In Oshima Shipbuilding, we conduct various initiatives from environmental viewpoint under corporate creed to safeguard the environment. We offer low fuel consumption and low CO2 emission ships by hull form development using circulating water tank. Moreover, to realize zero-emission society in the future, we develop cutting-edge technology with high environmental performance and apply result to our ships to contribute to low-carbon society.


Individual technologies
Wind challenger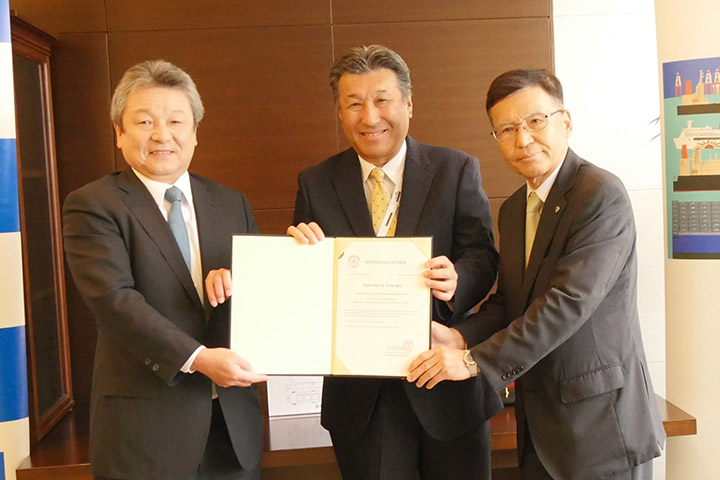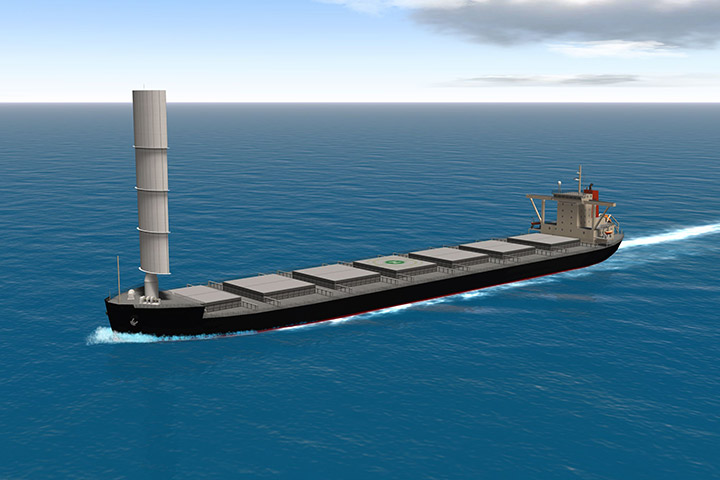 We are working on the development of next-generation sailing vessels with the aim of significantly reducing the fuel consumption of ships and reducing CO2 emissions from ships by maximizing the use of wind energy with huge hard sails. Oshima Shipbuilding and TOKYO-Mitsui O.S.K. Lines, Ltd.(MOL) have jointly obtained "Approval In Principle (AIP)" from Nippon Kaiji Kyokai for the design of a hard sail propulsion system. The system converts wind energy to propulsive force with telescopic hard sail, and is a fundamental technology of the "Wind Challenger Project".
Obtaining the AIP marks the completion of the initial design related to the hard sail structure and controls.
Wind Challenger Project will continue a detailed design and aim to launch a new vessel equipped with single hard sail in 2022. The effect of CO2 reduction by single hard sail will be about 5% on a Japan-Australia sea route, and about 8% on Japan-North America West Coast sea route. The long-term goal is to develop a widely accepted solution to achieve the IMO target with a combination of equipping multiple hard sails and other CO2 emission reduction measures.
Air Lubrication system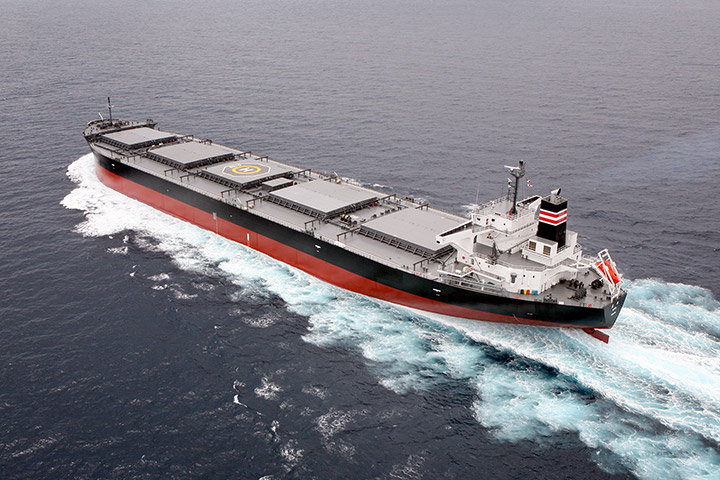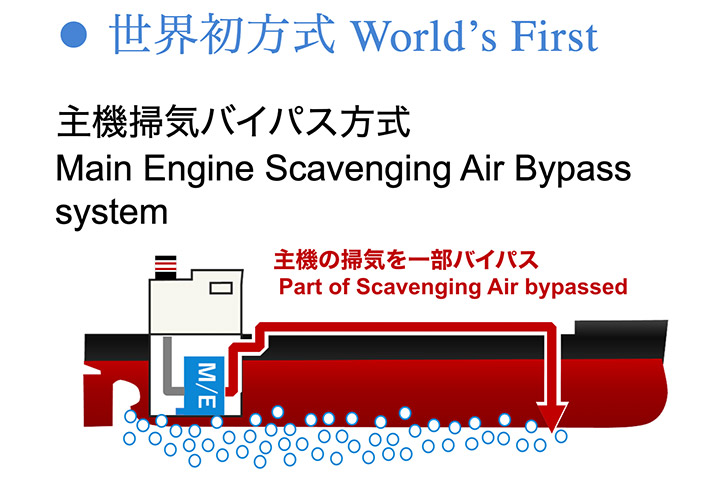 The world's first air lubrication technology using a main engine scavenging air bypass, a device that reduces frictional resistance on ship by creating layer of air bubble flow between seawater and ship bottom, is applied to Post Panamax bulk carrier "M/V SOYO".
The CO2 reduction effect was confirmed to be 3 to 8%, depending on the draft of the ship.
This system is a high-efficiency air supply system that extracts the surplus of main engine's scavenging air created by high-efficiency turbocharger, and transports it to the bottom of the ship using scavenging bypass pipe for air lubrication. In this system, the energy required for air supply to the bottom of the ship has been minimized.
"M/V SOYO" was awarded "Minister of the Environment award 2012", "Ship of the year 2012", "Nikkei Global Environmental Technology Award 2013" and "10th Eco products award".
Japan's first all-electric-battery-driven ferry boat with an autonomous ship navigation system "E/V e-Oshima"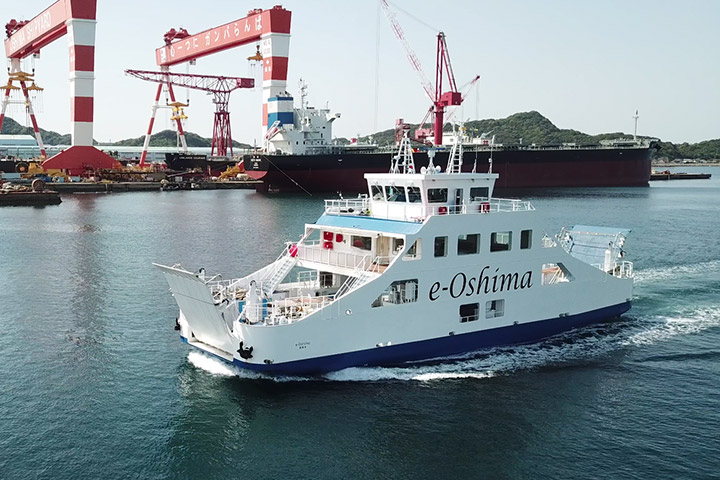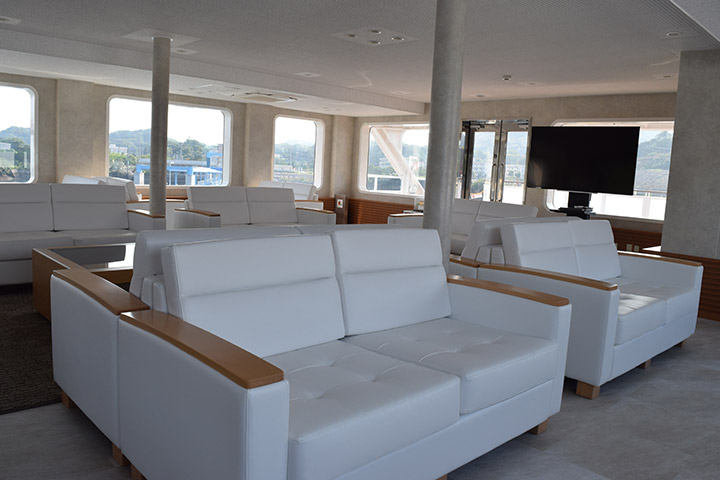 Oshima Shipbuilding developed all-electric-battery-driven ferry boat "E/V e-Oshima" equipped with 600 kWh lithium ion batteries. While sailing, it does not have any emissions, including carbon dioxide (CO2), nitrogen oxide (NOx) and sulfur oxide (Sox), making it a zero emission vessel.
The e-Oshima is Japan's first commercial vessel using DC (direct current) grid system, minimizing electricity conversion loss (DC-AC conversion) in the distribution from battery to propulsion motor and cabin air conditioner.
The autonomous ship navigation system is also installed on the e-Oshima, developed jointly by Oshima Shipbuilding and MHI marine engineering, Ltd. The system controls course and speed to avoid colliding with other vessel. This autonomous ship navigation has been selected as one of MLIT's FY2018 autonomous ships demonstration projects.
The e-Oshima has realized quiet and comfortable voyage only possible with the battery-driven vessel, without any noise and vibration from engine on the vessel.
"E/V e-Oshima" was awarded "Good design award 2019" and "Kyushu Transport Bureau Director Award (Environmental Conservation Division)".
MAITA propellers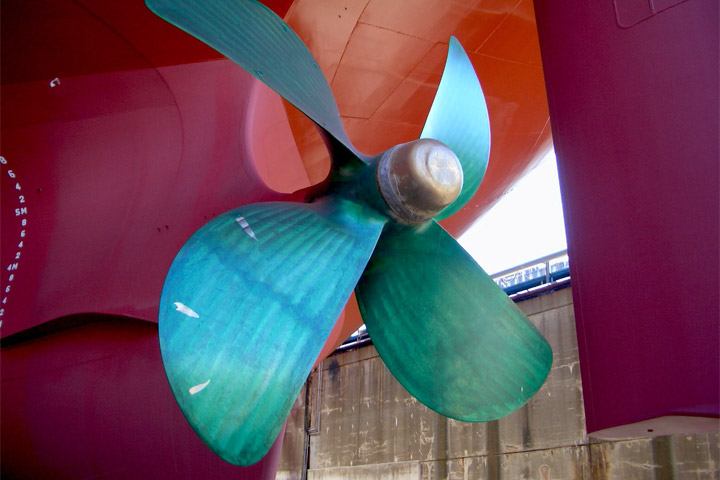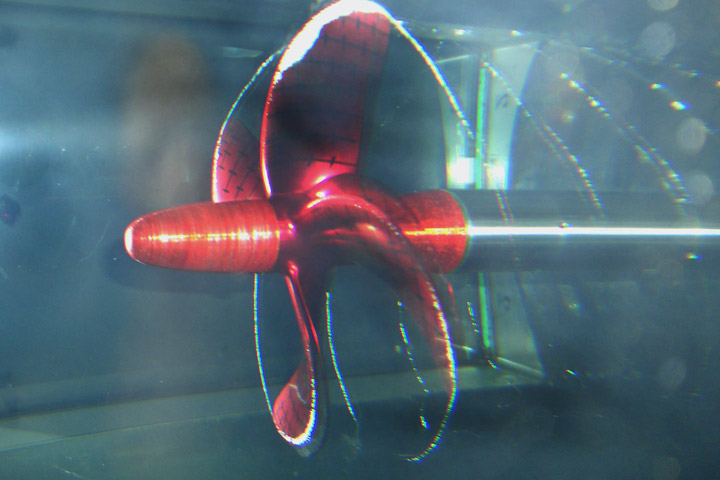 The "MAITA Propeller" is optimized for each ship with Oshima's unique propeller design technology to maximize propulsion efficiency, and has a track record of adoption to more than 200 vessels so far.
We are conducting propeller performance tests using the in-house circulating water tank, and will continue to aim for even higher efficiency.
LNG fueled ship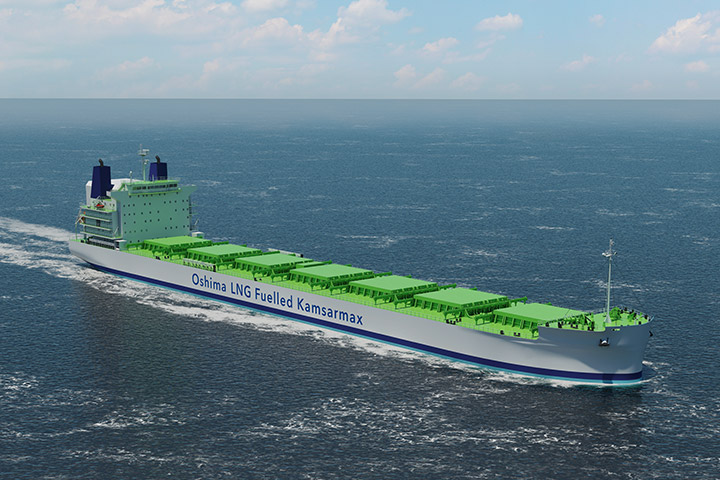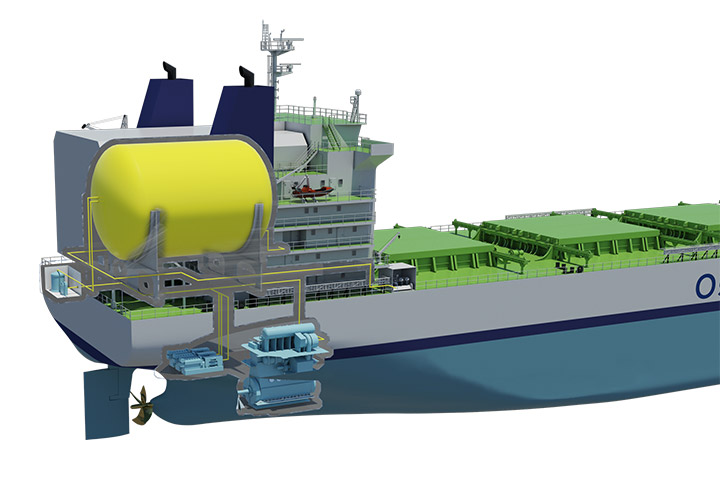 Oshima Shipbuilding developed bulk carrier that navigates on eco-friendly LNG fuel. By using LNG fuel, SOx emissions from exhaust gas are eliminated and CO2 and NOx emissions are reduced, contributing significantly to the reduction of air pollution.
By locating LNG tank behind the accommodation area, the cargo hold volume doesn't reduce.
We obtained "Approval In Principle (AIP)" from DNV・GL, the classification society in Europe, for the design of LNG fueled ship in 2015.
Kyushu Electric Power Co., Inc. has engaged in long term transport agreements by deploying the world's first LNG fueled large coal carriers with Nippon Yusen Kabushiki Kaisha (NYK) and Mitsui O.S.K. Lines, Ltd (MOL). NYK-operated LNG fueled coal carrier will be built by Oshima shipbuilding, scheduled for delivery in April 2023.