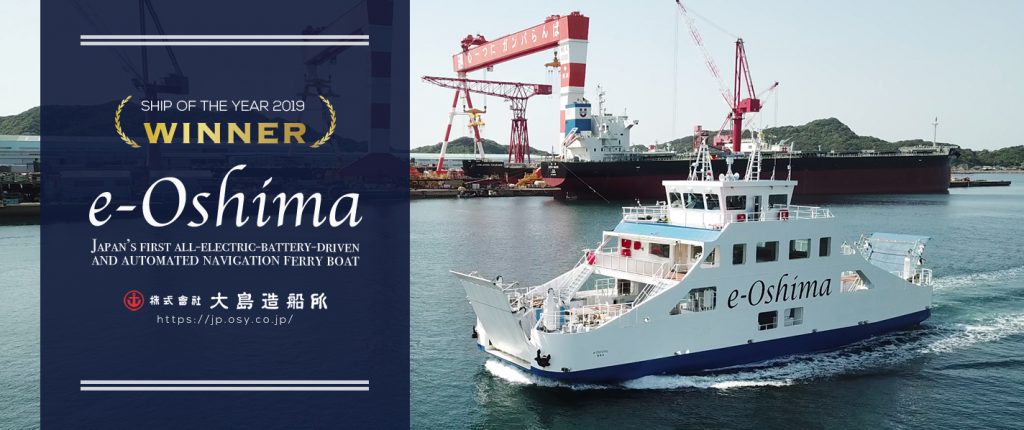 On July 27, 2020, E/V e-Oshima, a fully battery-driven ferry built by us, is awarded "Ship of the Year 2019" by The Japan Society of Naval Architects and Ocean Engineers.
"Ship of the Year Award" is given to the most innovative ship built in Japan every year based on technical, artistic and social considerations, and it is the 30th time since it started in 1990.
This is the second time we have won the "Ship of the Year Award", after receiving the award for "SOYO", coal carrier equipped with an air-lubrication system, in 2012.
This time, zero emission achieved by fully battery-driven unit, automatic navigation system, and our effort in charging battery with renewable energy under remote control system are highly evaluated.
Automatic Navigation of e-Oshima was selected by the Ministry of Land, Infrastructure, Transport and Tourism (MLIT) as one of demonstration projects towards the practical application of autonomous vessels, and the project has been the first of its kind to be conducted in Japan.
The advanced technology developed for e-Oshima is expected to become widely applied to coasting vessels in Japan in the future to contribute to manpower reduction and safety improvement.
We will continue to actively work on energy-saving technologies and next-generation environmental technologies to contribute toward realization of e-mobility society in the future.